Contact Judy Garner, to set up for Electronic Funds Transfer on MEP™ death claims!
MFDA Insurance Trust Fee Basis to Change Effective: September 1, 2015
--Fee will be assessed per policy

Since its inception in 2002, the MFDA Insurance Trust has helped members serve clients with small, traditional life insurance policies, that would otherwise be cashed in as part of a spend down for nursing home care. The Insurance Trust exists to accept the irrevocable assignment of ownership of such polices—with the proceeds assigned to a prearranged funeral—which exempts the value of such polices from the Medicaid applicant's asset inventory.

The current fee to accept such assignment is $125 per insured. At it's January meeting, however, the MFDA Services Corporation Board decided to change the manner in which this fee is assessed to $125 per insurance policy.

The new policy will take effect on Tuesday, September 1, 2015.

Members with any questions regarding this policy change can contact Judy Garner, MFDA's Prepaid Funeral Programs Administrator at 888-955-6332.
---
Upcoming Events
←
August 2015
→
S
M
T
W
T
F
S
1
2
3
4
5

Siskiwit Reception and Conference Center at the Erickson Crowley Peterson Funeral Home

Calumet, MI

August 5, 2015


4:00-7:00PM

6
7
8

Milan Vault, Milan, MI

August 8, 2015


2:00-5:00PM

9
10
11
12
13
14
15
16
17
18
19
20
21
22
23
24
25
26
27
28
29
30
31
August 5, 2015

4:00-7:00PM
Siskiwit Reception and Conference Center at the Erickson Crowley Peterson Funeral Home
Calumet, MI
August 8, 2015

2:00-5:00PM
Milan Vault, Milan, MI
View all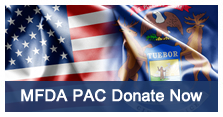 Find a Funeral Home
Find a Sales Supply Member