2016 PREPAID FUNERAL AND CEMETERY SALES ACT ANNUAL REPORT NOW AVAILABLE
SEE MEMBERS ONLY 'FORMS' TO DOWNLOAD

The annual report is to be submitted in sufficient time to ensure the Bureau receives it by July 15, 2017.
Welcome New Members
Please help us welcome the Andrews & Hardy Funeral Home in Detroit and C.S. Mulder Funeral Home in Sault Ste. Marie as new members of MFDA.
Effective June 1, 2017
Irrevocable Funeral Trust Contract Limit Increases to $12,540
Save
Save
Save
Save
Save
Save
Save
Save
Save
Save
Save
Save
Save
Save
Save
Save
Save
Save
Save
Save
---
Upcoming Events
←
June 2017
→
S
M
T
W
T
F
S
1

Whitey's Restaurant

Davison, MI

June 1, 2017




6:00-8:00PM

Okemos, MI

June 1, 2017

2
3
4
5
6
7

Northville Hills Golf Club

Northville, MI

June 7, 2017

8
9
10
11
12
13
14
15
16
17
18
19
20
21
22
23
24
25
26
27
28
29
30
September 7, 2017
Okemos, MI
December 7, 2017
Okemos, MI
View all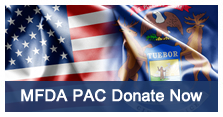 Find a Funeral Home
Find a Sales Supply Member