New Right-of-Disposition Law Takes Effect June 27, 2016
As members are now aware, Public Act 57 of 2016, the revision of Michigan's Right-of-Disposition law will go into effect on June 27.

Copies of a new Funeral Representative designation form, along with a question and answer document about the form, are now being distributed to MFDA members. Members should be cautioned, however, that Funeral Representative designations executed before June 27 may be set aside as invalid.

The designation form will also be available to members from MFDA's webpage, as well.
---
Upcoming Events
←
June 2016
→
S
M
T
W
T
F
S
1
2
3
4
5
6
7

Marquette Golf Club

June 7, 2016


4:00-6:00PM

8
9

Kalamazoo, MI

June 9, 2016


6:00-8:00PM

10
11
12
13
14

Detroit, MI

June 14, 2016


4:00-8:00PM

15
16

Loccino Italian Grill in Troy

June 16, 2016


6:00-8:00PM

17
18
19
20
21
22
23
24
25
26
27
28
29
30
July 10-13, 2016
Las Vegas
August 28, 2016

10:00AM-6:00PM
Detroit Yacht Club
View all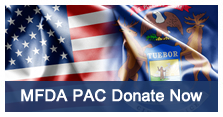 Find a Funeral Home
Find a Sales Supply Member