Education Measure Introduced in Senate
--Senate Bill 651
On November 8, Senator Rick Jones (R-Grand Ledge) introduced Senate Bill 651, the proposal to require a bachelor's degree for initial mortuary science licensure (beginning with those seeking licensure in 2023), as well as 4 hours per year of continuing education for license renewal, beginning with 2025 renewals.
In addition, the measure includes a provision specifically granting the Department of Licensing and Regulatory Affairs rule making authority regarding funeral establishments' licensed managers. This provision was included to clarify any ambiguity regarding such authority.
The bill has been referred to the Senate Regulatory Reform Committee chaired by Senator Tony Rocca (R-Sterling Heights), and no hearings have yet been scheduled as the legislature is adjourned for a two week recess.
Save
Save
Save
Save
Save
Save
Save
Save
Save
Save
Save
Save
Save
Save
Save
Save
Save
Save
Save
Save
---
Upcoming Events
←
November 2017
→
S
M
T
W
T
F
S
1
2
3
4
5
6
7

Filippa's Tap & Barrel, 45125 Mound Rd., Shelby Twp., MI 48317

November 7, 2017




6:00-8:00PM

8
9
10
11
12
13
14
15
16

Detroit Yacht Club 1 Riverbank Dr., Detroit, MI 48207

November 16, 2017




4:00-6:00PM

17
18
19
20
21
22
23
24
25
26
27
28
29
30

MFDA Office, Okemos, MI

November 30, 2017




10:00AM-2:00PM
November 30, 2017
10:00AM-2:00PM
MFDA Office, Okemos, MI
December 5, 2017
6:00-8:00PM
Kalamazoo, Frankenmuth
View all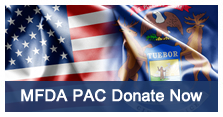 Find a Funeral Home
Find a Sales Supply Member